Methods of Translating Metonymies in The Masnavi: Boosting Larson's (1984) Model
Abstract
Translation suffers from many limitations, one of which is the rendition of metonymical expressions from one language into another. Rarely any language can be found wherein no metonymy is used. This study is conducted to compare and analyze metonymies in Rumi's Masnavi and its English translation by Mojaddedi (2004). Larson's (1984) model was adopted as the framework for analyzing the way metonymies were rendered. In the first phase, the source-text metonymies and their equivalents were extracted from the First Book of the Masnavi and its translation. Then, the methods employed in rendering each metonymy were specified and the frequency of each method was determined. Finally, it was attempted to boost the current model. The results showed that 'literal translation' was the most commonly used method while 'translation of metonymy into metonymic entity plus sense' was the least frequently adopted method. Also, the study proved that Larson's model doesn't cover all methods used by Mojaddedi. Additionally, four new methods were detected by the researchers including Literal translation, Deletion, Generalization, and Specification.
Keywords:
Metonymy, The Masnavi, Rumi, Mojaddedi, Larson's (1984) Model
References
Aaram, Y., Tayebzadeh, A., & Hassani Helm, H. (2016). An investigation into semantic hanjargorizi in respect to different metonymy types in selected poems by Molavi. The international conference of literature and Psychology. Faculty of Literature, the University of Hamadan. Accessed February 9, 2020 from www.academia.edu
Afrouz, M., & Mollanazar, H. (2016). Rendering the Islamic Concepts of the Holy Qur'an: Towards a More Comprehensive Model. Translation Studies Quarterly, 13(52), 61–76.
Afrouz, M. (2017). A Comparative-Interpretative Study of the Role of Native and Non-Native Translators in Preserving National Identity. Journal of Language and Translation Studies, 49(1), 41–55.
Afrouz, M. (2019). How Different Muslim Translators Render the Holy Qur'an into English? The Case Study of Sunni, Shia and "neither Sunni nor Shia" Translators. SKASE Journal of Translation and Interpretation, 12(1), 1–14.
Afrouz, M. (2020). Assessing equivalents selected by translators' of 'The Blind Owl' based on componential analysis and semantic load of the words proposing a new analytical model based on data analysis. Journal of Language Research, 12 (37), 9–37. doi: 10.22051/jlr.2020.30075.1830
Afrouz, M, & Shahi, M. (2020). Translation after Wittgenstein. Perspectives, 28(1), 159–161.
Afrouz, M. (2021a). Boosting Carmen Valero Garcés (1994) model through exploring contemporary English translations of Hedayat's surrealistic masterpiece. Contemporary Persian Literature, 10(2), 51–74. doi: 10.30465/copl.2021.6146
Afrouz, M. (2021b). Self-edition hypothesis: The case of multiple self-edited versions of modern literary texts. FORUM, 19(1), 1–23.
Al-Salem, R. (2008). Translation of Metonymy in the Holy Quran: A Comparative, Analytical Study. Unpublished doctoral dissertation. King Saud University, Saudi Arabia.
Guan, J. (2009). The Cognitive Nature of Metonymy and Its Implications for English Vocabulary Teaching. English Language Teaching, 2(4), 179–183.
Kamei, S.-i. & T. Wakao (1992). Metonymy: reassessment, survey of acceptability, and its treatment in a machine translation system. Paper presented at the Proceedings of the 30th annual meeting on Association for Computational Linguistics.
Lakoff, G. and M. Johnson (2003). Metaphors we live by. Chicago: The University of Chicago Press.
Larson, M. L. (1984). Meaning-based translation: A guide to cross-language equivalence. Lanham: University press of America.
Mojaddedi, J. (2004). The Masnavi: Book one. Oxford world's classics: Oxford University Press, USA.
Molavi, M. J. M. B. (n.d.). The First Book of the Masnavi. Accessed January 12, 2020 from www.torbatjam.com
Shamisa, C., & Anvari, H. (1993). Maani va Bayan. Tehran: Payame Noor.
Zheng, H. (2014). On Metonymy and Its Translation. World Journal of English Language 4(4), 28.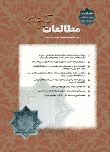 Downloads
How to Cite
Parvaz, Z., & Afrouz, M. (2021). Methods of Translating Metonymies in The Masnavi: Boosting Larson's (1984) Model. Translation Studies Quarterly, 19(75), 6–21. Retrieved from https://journal.translationstudies.ir/ts/article/view/909
Section
Scientific Research Paper