Translation and Copyright
Iranian Publishers' Views on the Results of Non-compliance with the Copyright Law in Iran on the Quality and Quantity of Translation Work
Abstract
Translation and copyright law and their relationship is the subject of many discussions among translation studies researchers. One of the reasons is that the translation of foreign works is subject to the permission of the author of the source text and the unequal power relations between the author and the translator, which has provoked the objection of some translation experts, including Venuti. He has called for major changes in copyright law in favor of translations and translators; so that, the source text can be freely translated after a short period of time without the permission of the author. Venuti's idea is currently being practiced in Iran. Foreign texts are translated and printed in the country without the permission of the original publisher. This study has investigated the impact of the lack of copyright law on the quality and quantity of translation work from the point of view of Iranian publishers based on Venuti' framework. In this regard, an interview was conducted with twenty-three prominent publishers of the country from five metropolitan cities, and their opinions about non-compliance with the copyright law in Iran on the quality and quantity of translation work were examined using Strauss and Corbin's Grounded theory. The findings indicate that publishers' haste to translate and publish best-selling works have led to poor translations in many cases, and the phenomenon of parallel work and book production has followed. However, there are few publishers who consider
References
باشگاه خبرنگاران جوان (۲۳ شهریور ۱۳۹۷). باشگاه خبرنگاران جوان بررسی می‌کند؛ پیوستن به قانون کپی‌رایت؛ آری یا نه؟ برگرفته از https://www.yjc.news/00RuRs
خبرگزاری کتاب ایران (۱۰ مهر ۱۳۹۹). دغدغه‌ها و چالش‌های مترجمان در ایران/ قانون کپی‌رایت، بازار آشفته ترجمه را ساماندهی می‌کند. برگرفته از ibna.ir/vdcb00b50rhb9sp.uiur.html
خبرگزاری کتاب ایران (۲۲ مرداد ۱۳۹۹). ترجمه زیر تیغ دور زدن قانون کپی‌رایت/ از موازی‌کاری تا کتاب‌سازی و قاچاق/ نظر 10 مترجم درباره کتاب‌های حوزه ادبیات. برگرفته از http://www.honaronline.ir
ششجوانی, ح.ر. (1400). سیاست‌گذاری اقتصادی بخش فرهنگ؛ بررسی اثر سیاست تنظیمی کپی‌رایت بر درآمد نویسندگان ادبی در ایران. اقتصاد و تجارت نوین، 16 (شماره 3 (شماره پیاپی 52)), 87–103. doi: 10.30465/jnet.2022.38387.1791
عرب تربتی, ن., خوش سلیقه, م. پورخالقی چترودی, م.. (1397). نشر ترجمۀ ادبیات کودک و نوجوان: وضعیت کنونی، معضلات و عوامل انتخاب. مطالعات ادبیات کودک. 9(1)، 91–112. doi: 10.22099/jcls.2017.4061
میرشمسی، م. ه. و حامدی، م. (1399). تحلیل رویه عملی نظام کپی‌رایت راجع به حق معنوی. پژوهش حقوق خصوصی، ۹(32)، ۱۵۵–۱۸۸. doi: 10.22054/jplr.2020.41847.2208
Bannerman, S. (2016). International copyright and access to knowledge. Cambridge: Cambridge University Press.
Berne Convention for the Protection of Literary and Artistic Works. (1908). Paris Act of July 24, 1971. Amended 28 September 1979. https://www.wipo.int/treaties/en/ip/berne/
Hemmungs Wirtén, E. (2011). Cosmopolitan copyright: Law and language in the translation zone. Uppsala: Uppsala Universitet.
King Lee, T. (2020). Translation and copyright: Towards a distributed view of originality and authorship. The Translator, 26(3), 241–256. DOI: 10.1080/13556509.2020.1836770
Ricketson, S. (1987). The Berne convention for the protection of literary and artistic works: 1886–1986. London: Centre for Commercial Law Studies, Queen Mary College/Kluwer.
Strauss, A., & Corbin, J. (1994). Grounded theory methodology: An overview. In N. K. Denzin & Y. S. Lincoln (Eds.), Handbook of qualitative research (pp. 273–285). Thousand Oaks, CA: SAGE.
Suljak, N. D. (1969). Right to translate and international copyright conventions. Law Library Journal, 62, pp. 47–57.
Vaver, D. (1994). Translation and copyright: A Canadian focus. European Intellectual Property Review, 16(4), 159–166.
Venuti, L. (1998). The scandals of translation: Towards an ethics of difference. London: Routledge.
Venuti, L. (2008). The translator's invisibility: A history of translation (2nd ed). Abingdon: Routledge.
Venuti, L. (2019). Contra instrumentalism: A translation polemic. University of Nebraska Press.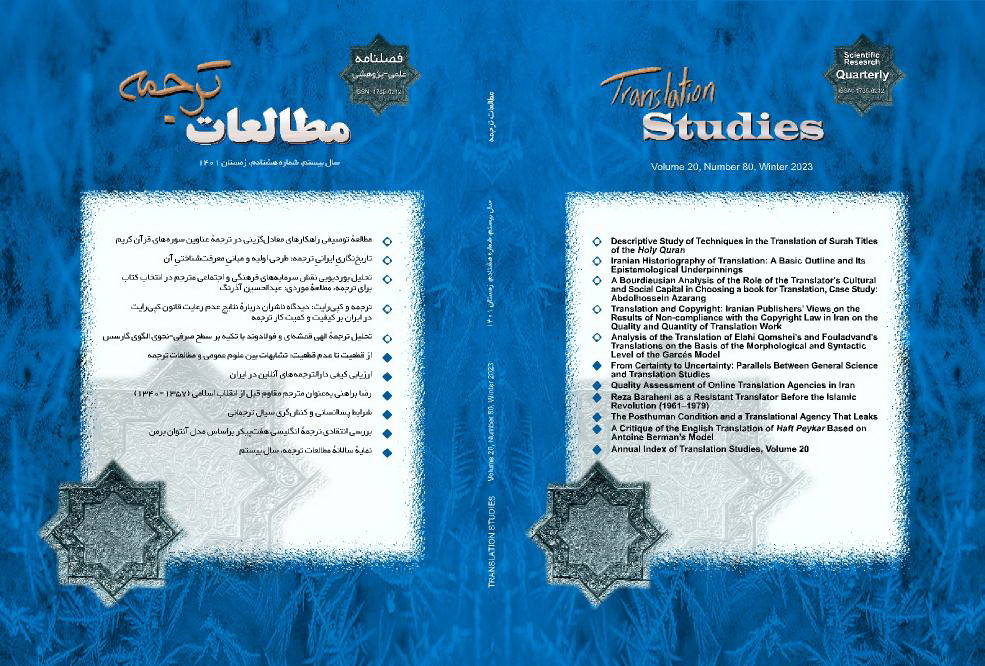 Downloads
How to Cite
Yalsharzeh, R., Monsefi, R., & Salmanpour, A. (2023). Translation and Copyright: Iranian Publishers' Views on the Results of Non-compliance with the Copyright Law in Iran on the Quality and Quantity of Translation Work. Translation Studies Quarterly, 20(80). Retrieved from https://journal.translationstudies.ir/ts/article/view/1031
Section
Scientific Research Paper