Quality Assessment of Online Translation Agencies in Iran
Abstract
     Despite increasing emergence of online translation agencies in the last decades, there has been little studies on the quality of services delivered by them. The purpose of this research is to assess the quality of the translation services provided by online translation websites in Iran. To this end, five Iranian translation websites are chosen based on their popularity among Iranian users. An article is given to each of these agencies for translation. Critical error-analysis of the translation are carried out as well as an examination of other aspects which affect the total quality of service received from each online translation agency i.e. translation fee, whether they are able to meet deadlines, how easy it is to use their websites. This research sheds some light on how online translation agencies provide services to their clients in terms of quality, costs and convenience. In addition, the results of this study indicate that, among the translations provided by the selected translation companies, the fastest translation was of lowest quality, while the slowest one had the highest quality.  
References
Almutairi, M. O. L. (2018). The objectivity of the two main academic approaches of translation quality assessment: Arab spring presidential speeches as a case study (Doctoral dissertation, University of Leicester).
D'Hulst, J. (1997). Focus on the target text. Towards a functional model for translation quality assessment. Transferre necesse est, 102–107.
Frank, A. P. (1987). Einleitung. Die literarische Übersetzung: Fallstudien zu ihrer Kulturgeschichte.
Holmes, J.S. (1988). The name and nature of translation studies. In Holmes, Translated! Papers on Literary Translation and Translation Studies, Amsterdam: Rodopi.
Lauscher, S. (2000). Translation quality assessment: Where can theory and practice meet? The translator, 6(2), 149–168.
Munday, J. (2008). Introducing translation studies. London and New York: Routledge.
Novakovic, S. (2020). Montpellier's L'Arbre Blanc Blends Playful Folly with Public Purpose. (M. Aghai, Trans.). Tarzabani Magazine, No. 56
Pöchhacker, F. (1994). Simultandolmetschen als komplexes Handeln (Vol. 10). Gunter Narr Verlag.
Reiss, K. (1971). Möglichkeiten und Grenzen der Übersetzungskritik: Kategorien und Kriterien für eine sachgerechte Beurteilung von Übersetzungen (Vol. 12). Hueber.
René, A. (2002). Mossop, Brian. Revising and Editing for Translators, Manchester, UK, St. Jerome Publishing, 2001, 177 p. TTR: traduction, terminologie, rédaction, 15(1), 241–243.
Schäffner, C. (1998). Skopos theory. Routledge encyclopedia of translation studies, 17, 235–238.
Schmitt, P. A. (1998) 'Qualitätsmanagement', in Mary Snell-Hornby, Hans G. Hönig, Paul Kußmaul and Peter A. Schmitt (eds) Handbuch Translation, Tübingen: Stauffenburg-Verlag, 394–99.
Sofyan, R., & Tarigan, B. (2019). Developing a holistic model of translation quality assessment. In Eleventh Conference on Applied Linguistics (CONAPLIN 2018) (pp. 266–271). Atlantis Press.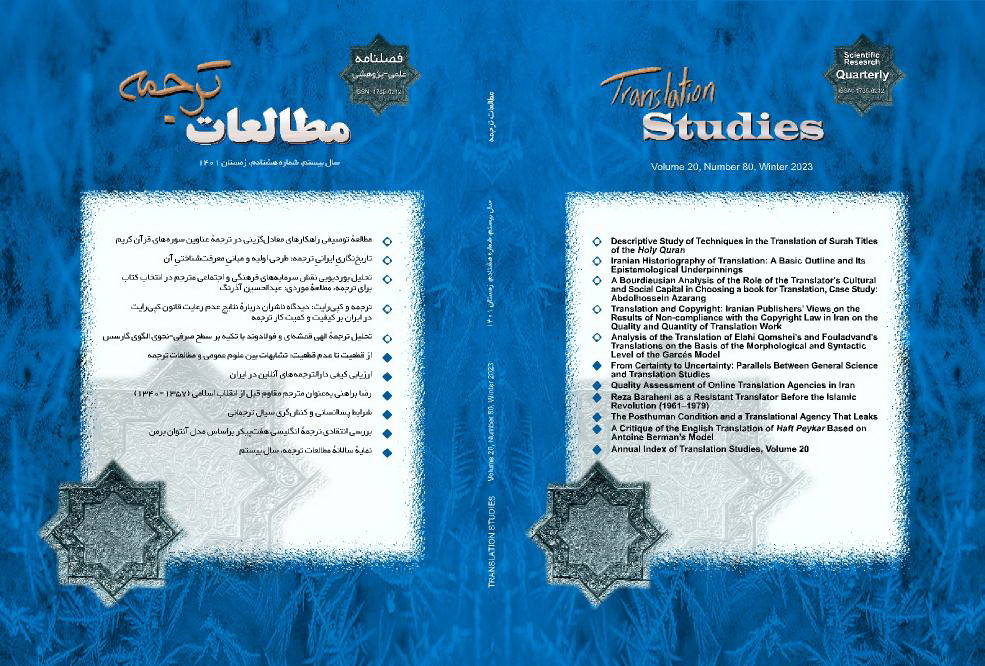 Downloads
How to Cite
Aghai, M. (2023). Quality Assessment of Online Translation Agencies in Iran. Translation Studies Quarterly, 20(80). Retrieved from https://journal.translationstudies.ir/ts/article/view/1033
Section
Scientific Research Paper