A Survey of the Translation of Imam Hossein's Divan in the Base of Saving the Main Meaning
Keywords:
Survey of the translation, main meaning, translation of poems, Imam Hossein's divan
Abstract
One of the best methods in analyzing the variables of a literature work is criticizing that work in the base of its main meaning. Imam Hossein's divan as a poetic sample, having an instructive descriptions and contents translated to Persian language by Amir Jabery. In this article with qualitative method and by considering the main meaning in translation attempted to analyze the methodology of the translator and the way of expressing themes and also content criticizing of Imam Hossein's divan. The result of this article shows that the translator in the area that is related to literary method of the sentences, debates, and transferring the meaning has an acceptable performance. But in expressing the meaning of the poems by literal translation in the target language and choosing accurate synonyms for the words and vocabularies some errors and slips are seen in his translation.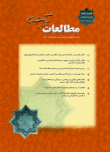 How to Cite
Esmailzadeh, H., Asgharpour, S., & Fazlinejadi, H. (2018). A Survey of the Translation of Imam Hossein's Divan in the Base of Saving the Main Meaning. Translation Studies Quarterly, 16(62), 39–56. Retrieved from https://journal.translationstudies.ir/ts/article/view/613
Section
Scientific Research Paper