Descriptive Study of Techniques in the Translation of Surah Titles of the Holy Quran
Case Study: English Translations by Arberry, Pickhtall, Rodwell, Sale and Al-Hellali-Khan
Abstract
This research investigated strategies of the Surahs' (chapters) titles of the Holy Quran in English. Therefore, five English translations of the Holy Quran conducted by Arthur John Arbury, Muhammad Marmaduke Pickthall, John Medows Rodwell, George Sale, and Hilali-Khan were reviewed by Leppihalme's model (1997) to detect the strategies applied in the translations. Comparative analysis of the Arabic names of the Surahs with their English equivalences and their translations indicated that 1) translators used all strategies to convey proper nouns, except for the strategy of "keeping proper nouns in the target language with the respective footnotes and 2) the strategies include: a. replacing 493 source nouns with their equivalences in the target language, b. keeping 35 nouns without additional comments, c. keeping 31 nouns without additional comments and adaptation to the phonetic or lexical system of the target language, d. keeping six nouns with additional comments, and e. omitting five nouns and conveying their meanings with other nouns. Moreover, Muslim translators did not use the omission strategy of the source noun, but non-Muslim translators employed it.
References
افروز، م. و ملانظر، ح. (۲۰۱۷). راهبردهای ترجمۀ دوازده دسته از اصطلاحات قرآنی. فصلنامه مطالعات ترجمه ایران، ۱۴(۵۵).
حری، ا. (۱۳۹۸). «سخت‌ترجمه‌پذیری اسماءالحسنی با تکیه بر الگوهای رایج در ترجمۀ انگلیسی اسامی خاص». مطالعات ترجمه قرآن و حدیث، ۶ (۱۱)، ۳۷–۶۸.
جواهری، م.ح. (۱۳۹۸). «روش‌شناسی ترجمه قرآن کریم». چ. ۱، قم: پژوهشگاه حوزه و دانشگاه.
خامه‌گر، م. (۱۳۹۷). تفسیر ساختاری قرآن کریم، قم: پژوهشگاه حوزه و دانشگاه.
رسولی راوندی، م. ر. (۱۳۹۶). «تحلیل انتقادی ترجمه‌های انگلیسی قرآن کریم در حوزه تأکید»، رساله دکترا، دانشگاه تهران، دانشکده الهیات و معارف اسلامی.
مبارکی، م. و بقایی، ه. (۱۳۹۳). «بررسی دو ترجمه آربری و یوسف‌علی از قرآن کریم بر اساس نظریه تعادل واژگانی بیکر». فصلنامه تحقیقات علوم قرآن و حدیث دانشگاه الزهرا (س)، ۲ (۲۲)، ۱۳۷–۱۵۷.
معاذاللهی، پ. (۱۳۹۰). «ترجمه ادبیات کودکان: بررسی ترجمۀ اسامی خاص شخصیت‌ها به‌طور ویژه». مطالعات ادبیات کودک، ۲ (۲)، ۱۵۳–۱۶۸.
Augillera, E. (2008). The translation of proper names in children literature. Retrieved from: http://ler.letras.up.pt/uploads/ficheiros/4666.pdf.
Al-Hilali, M. T. & Khan, M. M. (1997). Meaning of the Noble Qur'an in the English language. Madinah: K, S, A: King Fahad Complex for the Printing of the Holy Qur'an.
Arberry, A. J. (1955). The Kor'an Interpreted. Retrieved from: http://www.iqbalcyberlibrary.net/pdf/QA.pdf
Ladmiral, j. (1994). Translation: Theorems for Translation. Paris: Gallimard.
Leppihalme, R. (1997). Culture Bumps: An Emperical Approach to the Translation of Allusions. U.K.: British Library.
Pickthall, M. (1951). The Glorious Qur'an. Tehran: Salehi Publications.
Rodwell, J. M. (1974). Translation of the Koran. London: Everyman's Library.
Sale, G. (1734). The Koran: Translated into English from the Original Arabic (n.d.). Great Britain: Fredrick Warne.
Sarka, H. (2007). Translation of Proper Names in Non-Fiction Texts. Translation Journal. 11 (1). Retrieved from: http://accurapid.com/journal/39proper.htm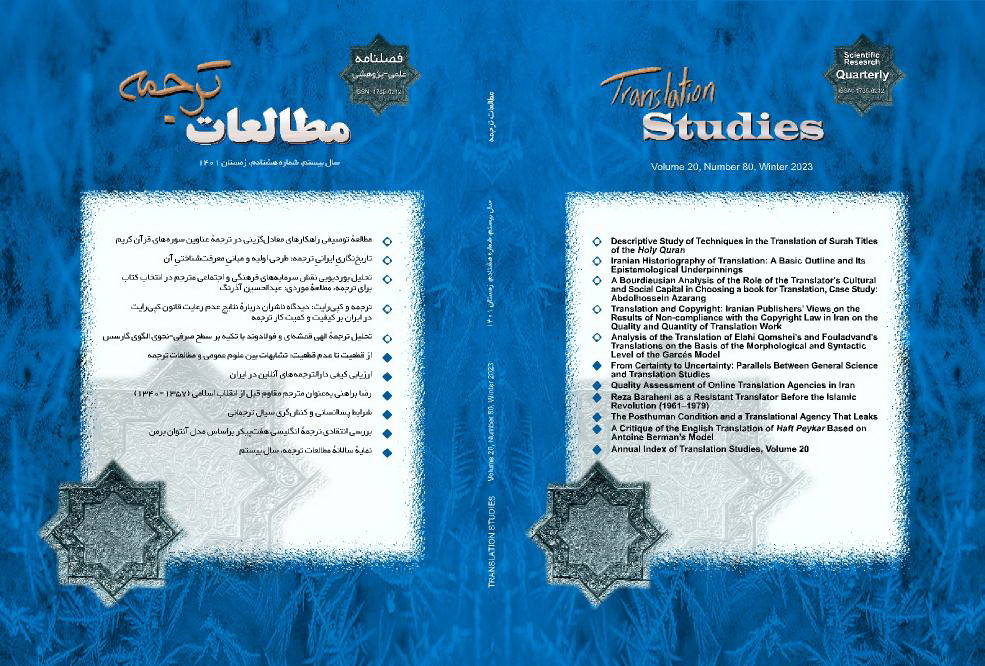 Downloads
How to Cite
lavaee moghaddam, mehdi. (2023). Descriptive Study of Techniques in the Translation of Surah Titles of the Holy Quran: Case Study: English Translations by Arberry, Pickhtall, Rodwell, Sale and Al-Hellali-Khan. Iranian Journal of Translation Studies, 20(80). Retrieved from https://journal.translationstudies.ir/ts/article/view/1034
Section
Academic Research Paper
License
Copyright Licensee: Iranian Journal of Translation Studies. This article is an open access article distributed under the terms and conditions of the Creative Commons Attribution–NonCommercial 4.0 International (CC BY-NC 4.0 license).