Dynamic Equivalence in Four Old and New Translations of Rumi's Mathnavi
Keywords:
dynamic equivalence (D-E), literary texts, Masnavi, Rumi
Abstract
The present paper reports a research which aimed at investigating the level of dynamic equivalence (D-E) in four translations of forty five didactic couplets chosen from the First Book of Rumi's Mathnavi. In order to do so, a parallel corpus-based study was carried out based on Nida's concept of dynamic equivalence. The subjects participating in the study were educated native English speakers who were asked as target readers to rate the translations in terms of being dynamic. The results showed that Nicholson's translation is more dynamic and capable of communicating the ST message to its audience than the two translations that were published in the 21st century and the marked shift of emphasis from the formal to the dynamic dimension in translating literary texts that Nida (1964, p. 160) mentioned does not still hold regarding the translations of the Mathnavi.
References
Landers, C. E. (2001). Literary translation: A practical guide. Clevedon, Buffalo, Toronto, Sydney :Multilingual Matters Ltd.
Mojaddedi, J. (2004). The Masnavi: Book 1. Oxford & New York: Oxford University Press.
Munday, J. (2008). Introducing translation studies: Theories and applications. London & New York: Routledge.

Nida, E. A. (1964). Toward a science of translating: With special reference to principles and procedures involved in Bible translating. Leiden: Brill.

Nida, E. A. & Taber, C. (1969). The theory and practice of translation: Helps for translators. Leiden: Brill.
Whinfield, E. H. (2001). Masnavi i Ma'navi: Teachings of Rumi. Ames, Iowa: Omphaloskepsis.
Williams, A. (2006). Spiritual verses: The first book of the Masnavi-ye Ma'navi. New York: Penguin Group.
جعفری، م. ت. (8134). تفسیر و نقد و تحلیل مثنوی جلال الدین محمد بلخی (جلد اول). تهران: شرکت سهامی انتشار.
ستوده، غ.، مهرکی، ا.، سلطانی، ا. (1385). فرهنگ متوسط دهخدا. تهران: موسسه انتشارات و چاپ دانشگاه تهران.
فروزانفر، ب. (1431). شرح مثنوی شریف. تهران: نشر تهران.

http://mybook.ir/book/%D8%AF%D8%A7%D9%86%D9%84%D9%88%D8%AF_%DA%A9%D8%AA%D8%A7%D8%A8_%D8%B4%D8%B1%D8%AD_%D9%85%D8%AB%D9%86%D9%88%DB%8C_%D9%85%D8%B9%D9%86%D9%88%DB%8C_%D8%B4%D8%B1%DB%8C%D9%81_(%D8%AF%D9%88%D8%B1%D9%87_%DB%8C_%D8%B3%D9%87_%D8%AC%D9%84%D8%AF%DB%8C)_-12452

نیکلسون، ر. ا. (1381). مثنوی معنوی مولانا جلال الدین رومی دفتر اول. تهران: سعاد.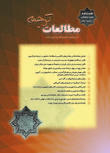 How to Cite
Manafi Anari, S., & Mollabashi, T. (2018). Dynamic Equivalence in Four Old and New Translations of Rumi's Mathnavi. Translation Studies Quarterly, 15(59), 9–22. Retrieved from https://journal.translationstudies.ir/ts/article/view/472
Section
Scientific Research Paper