Paratranslation and Image Schemas in the Quranic Translation: Mental Spaces
Keywords:
mental spaces, image schema, prompt, cognitive linguistics, conceptualization
Abstract
Although translation itself is a cognitive process, translation from cognitive view is new. There exist many aspects in the translations of the Holy Quran which have been added to the original text. These aspects are diverse, different and can be classified on the wide spectrum. It is very difficult to justify them based on equivalence or many theories of translation. But, mental spaces and their internal structure, namely image schemas, can give us an effective tool how and why these elements appear in the text. It is even possible to predict which elements may be added to the text if we consider frames related to the verse. According to mental spaces theory and their internal structures these elements are viewed as prompts for activating a frame or frames relevant to the interpretation of the original text, historical origin or so. The translators each have activated one or more aspects of the frame for conceptualization. Comparing the translations reveal that these elements activate the same mental spaces.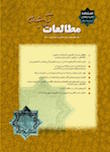 How to Cite
Mosaffa Jahromi, A. (2019). Paratranslation and Image Schemas in the Quranic Translation: Mental Spaces. Translation Studies Quarterly, 16(63), 26-40. Retrieved from https://journal.translationstudies.ir/ts/article/view/634
Section
Scientific Articles