Components of Translation Competence: A Job Task Analysis
Keywords:
Translator training, Job task analysis, Translation competence
Abstract
Translator training programs—whether at universities or higher education institutes—have been mushrooming in Iran. The avowed objective of these programs is to prepare trainee translators for the competitive market. This article attempts to identify sub-competences of Translation Competence. To this aim, a job task analysis is conducted. First, a 12-member focus group are asked to set forth all a translator need to function competently—this involves filling out a 3-question survey followed by online interviews which have been recorded. Then, based on the data from the survey, a 50-item questionnaire is developed and distributed among professional translators to rate the items in terms of their importance. Finally, the results are discussed and compared with the PACTE's Translation Competence model. The results of the study show four categories of Knowledge, Skills, Abilities and Attributes, the majority of which are considered necessary for the success of a translator. Also, there is a significant correlation between the results of the present study and PACTE's Translation Competence model.
References
Ashrafi, N. (2012). Construction and validation of the translation teacher competency test and the scale of students' perceptions of translation teachers (unpublished master's thesis). Ferdowsi University of Mashhad, Mashhad.
Albir, A. H., & Alves, F. (2009). Translation as a cognitive activity. In J. Munday (Ed.), Routledge companion to translation studies (pp. 54 –73). London, England: Routledge.
Angelelli, C. V., & Jacobson, H. E. (2009). Testing and assessment in translation and interpreting studies: A call for dialogue between research and practice. Amsterdam, Netherlands: John Benjamins.
Beeby, A. (2000). Choosing an empirical- experimental model for investigating TC: the PACTE Model. In M. Olohan (Ed.), Intercultural Faultlines: Research Models in Translation Studies I: Textual and Cognitive Aspects (pp. 43–55). Manchester, London: St. Jerome.
Bell, R. T. (1991). Translation and translating: Theory and practice. London, England: Longman.
Campbell, S. J. (1991). Towards a model of TC. Meta: Journal des traducteurs/ Meta: Translators' Journal, 36(2–3), 329–343. doi: 10.7202/002190ar
Chomsky, N. (1965). Aspects of the theory of syntax. Cambridge, M.I.T. Press.
EMT expert group. (2009). Competences for professional translators, experts in multilingual and multimedia communication. http://ec.europa.eu/dgs/translation/programmes/emt/key_documents/emt_competences_translators_en.pdf
Fox, O. (2000). The use of translation diaries in a process-oriented translation teaching methodology. In C. Schäffner & B. Adab (Eds.), Developing TC (Vol. 38, pp. 115–130). Amsterdam, Netherlands John Benjamins.
Heidari, E. and Mowlaie, B. (2016). "Iranian Instructors' Practices and Criteria for Teaching English Translation". Theory and Practice in Language Studies, 6(3), 622–630.
Koby, G. S. and Melby A, K. (2013). "Certification and Job Task Analysis (JTA): Establishing Validity of Translator Certification Examinations". The International Journal for Translation & Interpreting Research, Vol. 5, No 1, pp. 174–210.
Orozco Jutorán, M., & Hurtado Albir, A. (2002). Measuring TC acquisition. Meta, 47(3), 375–402. doi: 10.7202/008022ar
PACTE. (2002). Exploratory tests in a study of translation competence, Conference Interpretation and Translation. 4(2). 41–69.
PACTE. (2003). Building a Translation Competence Model, In: Alves, F. (ed.) Triangulating Translation: Perspectives in process-oriented research. Amsterdam: John Benjamins. 43–66.
PACTE. (2008). First Results of a Translation Competence Experiment: 'Knowledge of Translation' and 'Efficacy of the Translation Process'. In: Kearns, J. (ed.) Translator and Interpreter Training. Issues, Methods and Debates. London: Continuum. 104–126.
PACTE (2011). Results of the Validation of the PACTE Translation Competence Model: Translation Problems and Translation Competence. In C. Alvstad, A. Hild & E. Tiselius (Eds.), Methods and Strategies of Process Research: Integrative Approaches in Translation Studies, 317–343. Amsterdam: John Benjamins.
Schäffner, C., & Adab, B. (2000). Developing TC: introduction, In Ch. Schäffner & B, Adab (Ed.) Developing TC (pp. vii-xvi). Amsterdam, Netherlands: John Benjamins.
Šeböková, S. (2010). Comparing TC. (Unpublished masters' thesis). Brno, Masaryk University, Czech.
Wang, N. (2005). Use of knowledge, skill, and ability statements in developing licensure and certification examinations. Educational Measurement: Issues and Practice (Spring 2005), 16–22.
Winkler, G. (1992). Teaching technical translation: An engineered approach at Flensburg polytechnic. In C. Dollerup & A. Loddegaard (Eds.), Teaching translation and interpreting: Training, talent, and experience. Amsterdam, Netherlands: John Benjamins.
فرحزاد، ف. (1396). مشخصات کلی، برنامه و سرفصل دروس دوره کارشناسی مترجمی زبان انگلیسی. وزارت علوم تحقیقات و فناوری.
مبارکی، م. و امین زاده، س. (1392). نظریه و توانش ترجمه: اساس علمی و عملی مدل نظام‌مند آموزش ترجمه. فصلنامه مطالعات زبان و ترجمه، شماره دوم، صفحات 133–153.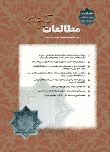 Downloads
How to Cite
Farahzad , F. ., & Jazeb, M. (2021). Components of Translation Competence: A Job Task Analysis. Translation Studies Quarterly, 19(75), 77–95. https://dorl.org/dor/20.1001.1.17350212.1400.19.3.6.2
Section
Scientific Research Paper